Monterrey Antifoul Paint Black Low VOC by Seahawk
Monterrey Antifoul Paint Low-VOC by Seahawk
Description:
Monterrey Antifoul Paint Black Gallon Low-VOC
Water-Based • Low VOC's – 5400 Series Bottom Paint
Monterey is Sea Hawk's solvent-free antifouling formulation that is designed to give the best protection against all types of marine fouling, while remaining friendly to the environment. Monterey is a semi-hard, ablative finish that is easy to apply. It is compatible with most paints on the market and can be applied over most existing bottom paint in good condition. Monterey can also withstand removal from water without affecting its antifouling abilities.
 

Low VOC's and highest grade of cuprous oxide available (more potent active ingredient)

 

Harder ablative finish (lasts longer on higher speed vessels)

 

Better color consistency for color matching

 

Consistent viscosity = better flow and rolling ability

 

May be applied over other ablative anitfoulant paints
---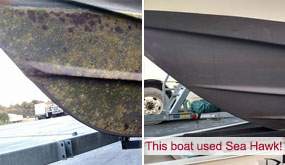 "This photo shows the difference between $100 a gallon cheap antifouling bottom paint and Sea Hawk Paints. (photo provided by Capt. Gribble) Our Sportfishing Charter business uses Sea Hawk. I stand behind Sea Hawk Paints 110%!"
Captain John Karl Gribble
DB Marine Service & Outdoor Sports
For Product Specifications and Application Guidelines Click Here
SHP544